"...You don't even have to stop your vehicle. Press the button, overtake the others and steadily drive upwards the slope... And in the end the road was mine – at least for a while…". Karsten Glaschick ( KaSaTrans e.K.)
This week we are happy to share a post from one of our valuable customers, Karsten Glaschick from KaSaTrans e.K in Germany. We are always very happy and proud when our customers get back to us with stories about situations when Onspot has helped them out in their daily life. KaSaTrans´ trucks are lowliners, a truck type not so well known outside Germany. A lowliner is a kind of a volume combination truck with smaller tires, a flat frame and a big upper structure. In other words a low semitrailer. Enjoy your reading! / The Onspot team
A true story from Friday, 13th (!) January, 2017
Extreme winters have become rare in our region. Snow chains are no longer a topic for us until it strikes you, the first real snow. As happened lately in the morning when I drew up the curtains on the rest-area of Olzheim, Germany – everything was covered in snow and ice. The first anxious glance at the clock, as usual: no time for queuing. My second glance was in the direction of the B51 – the traffic was still flowing throughout the Eifel …
It turned out (to be) as expected. I had scarcely left the parking ground when I noticed four colleagues standing at the first slope. …. What to do now? Overtake and then get stuck anyhow on the second lane, embarrassing myself to death?! Or stop, step out into the biting cold to fetch the snow chains that had been messing around in the storage case for years? And when you have finally succeeded in mounting them, somebody else would have tried to overtake, and failed, and in the end not even the gritting-service would be able to pass.
Might there still be another option?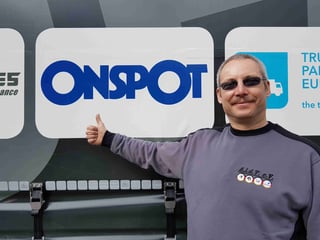 Yes, of course: Automatic snow chains flung under the driving wheels without stepping out of the cabin. You don't even have to stop your vehicle. Press the button, overtake the others and steadily drive upwards the slope. It won't get fast but it works. And in the end the road was mine – at least for a while…
It's a big advantage that I was persuaded by the Onspot staff from VBG Group TE on their stand during last year's NUFAM fair. In the beginning I had been somewhat sceptic with my lowliner, as the arms with the chain wheels have to be slung under the drive axle. But luckily I had gone there with my truck, so the service technician had the opportunity to measure and check the mounting space available. At least with my tyre dimension of 305/60 R22,5" it should work and, I was lucky it worked out well!
Karsten Glaschick
Owner KaSaTrans e.K.