You have mounted the automatic snow chain system to the vehicle. The driver has picked it up and left the workshop. How can you make this an even better investment for the fleet owner and the drivers? Here you can learn more and download documents to use for maintenance. There is even a reference document for the driver when he or she returns for service.

When the vehicle returns for a first inspection, you should pay close attention that the bolts attaching the bracket kits to the vehicle are still at the correct torque. Also, make sure that the Onspot units are still safely bolted to the bracket kit.

After making sure that the system will stay in the exact position that it is intended to, it will give superb service over a long period of time. Even the slightest change in those areas will affect where the chain wheels hit the tire of the vehicle. This is one of the benefits of the system in that it is so easy to obtain the correct position ensuring that the chain wheel hits the exact center line of the wheel. This is important so that you will have the best traction driving both forward and in reverse.
In this other blog you can learn more of the physics: Automatic Snow Chains – how it really works.
Maintenance Instructions
Further down you find a downloadable document with Maintenance Instructions. It includes both the First Service and what to check at the Regular Vehicle Service. By following these instructions you, as a mechanic, will make sure that the automatic snow chain system will work properly for many years.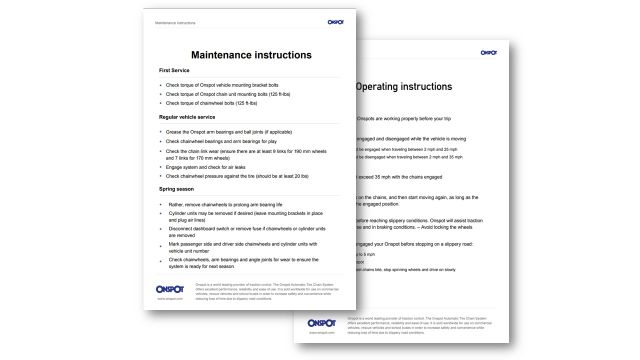 To make your life even easier, you can provide the drivers with the Operating Instructions. It includes instructions on how to operate the system in the best way making sure that the Onspot system is used how and when it is intended. This will ensure that the driver and vehicle will arrive safe, at the point of destination, on time...and return home safely.
Two for one
We offer Maintenance and Operating Instructions as a "Two for one" thus making it easier for you to use as a quick maintenance and operation reference guide. Click on the blue button below to download them both: