Why the school bus driver is my hero
Even though I'm not a school bus driver by profession, I can clearly imagine what it's like. That's because I know what it's like to be a professional truck driver. To me, truck driving could be very stimulating with a good sense of freedom, being there on my own in the cab. But I also know it could be stressful when there is an impatient receiver of the goods I carry, and something goes wrong…
This is how I imagine what it's like to be a school bus driver: I'm not alone with the radio in my cab, but instead I have the bus filled with chatting and laughing kids. I have no goods to deliver, but instead I carry the most valuable asset there is – children that must be taken to school on time – and I'm fully responsible for their safety! This alone is a stressful thought to me…
School bus driving is stressful – and really stressful
Now, suppose something goes wrong and I'm delayed. This would stress me even more, trying to keep up with the schedule and at the same time I'm still responsible for the students' lives and safety. Even worse, if this happens in a situation when roads are icy and safe driving is put at stake, I would probably be so stressed that I'd look for an office job instead! I simply haven't got the nerves for school bus driving. I admire those drivers who can cope with the stress and responsibility, and in all situations keep calm and be that smiling, secure and cozy driver. In my opinion you are heroes.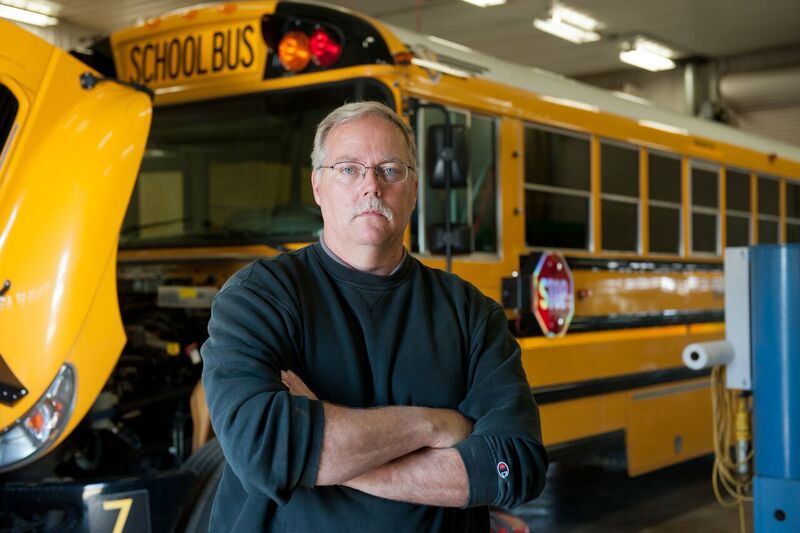 More safety – less stress
However, there are things that I don't have to imagine, but instead I know them for sure. One such thing is that all arrangements for improving safety will reduce the risk of incidents and their possible consequences. And I also know that being well prepared and feeling safe will reduce stress for the professional driver, irrespective of driving profession. Consequently, reducing stress is reducing the risk of making a wrong decision in critical situations. I suggest you read the "Tips on driving a school bus in adverse conditions", where you find tips and ideas for how you could improve safety – and reduce stress.