What do you do when the sand spreader no longer fits on the truck? Erik Pettersson at J&E Pettersson transport company in Stugun in Jämtland, Sweden, chose to test Onspot on one of his trucks - and soon there will be more.
It can be over 500 km a day for Erik Pettersson on assignments across Jämtland. It is sometimes demanding driving on the conditions in the mountain world; hilly, slippery, snowy and some what moody.
- The weather can change quickly. It is important not to be stuck with spinning wheels when you have stopped, he says.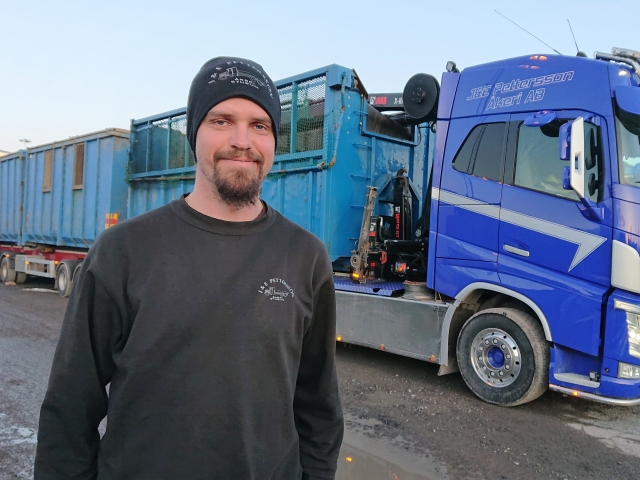 He and his brother John, run J&E Pettersson Åkeri in Stugun, 50 km outside Östersund (Sweden), since 2008. In the first years they transported mainly timber, but now part of the assignment is also to transport recycling bins between recycling stations, recycling centers and waste facilities. This has meant that a couple of the trucks in the vehicle fleet have been fitted with crane and swop bodies. But it had an unexpected consequence.
- There is no room for sand spreaders on that construction. So we simply had to choose: rebuild the truck to make room for sand spreaders, drive on snow chains or do without it, says Erik Pettersson .
Rebuilding the car would be too expensive.
- On the one hand, it would have costed upwards of SEK 100,000, and on the other hand, we would have had a smaller fuel tank, he says.
And to rely on snow chains, no, it felt too complicated, thought Erik Pettersson.
- You are a bit lazy by nature.
It becomes too hard to go out and put on so many times a day.
And to take a chance and try to do without something never came up.
- Every time I stop at a recycle station, I risk thawing and ice forming under the wheels.
Therefore, sand or chains are needed.
Erik Pettersson likes to think about smart ways to optimize his vehicles. He read about Onspot and decided to have it mounted on one of his crane trucks to begin with.
- Now I have had Onspot for a year and a half, and use it almost every day when it is winter road conditions. It is so simple, just press a button. I'm impressed with how durable the stuff is. It looks almost a little fragile at first glance, but they are incredibly durable and we have not had any problems at all, he says.
If there is plenty of snowfall, sand risks being covered by snow while he is parked, and he also saves his back because he does not have to load sand, he states with satisfaction. He has also noted that some industries do not allow carriers to use sand inside their areas as there is a risk that it will contaminate, for example, pulp production.
- Now we are looking at mounting Onspot on at least one more truck.
---
J&E Pettersson Åkeri
Location: I Stugun outside Östersund, Sweden
Founded: 2008.
Business: Six employees. Has five Volvo trucks, two of which are crane swop bodies. Among other things, transport recycling containers on behalf of FTI, the Packaging and Newspaper Collection, in Jämtland, Härjedalen and Västerbotten. Also performs gravel and machine transports, stump milling, cable plowing and trench cutting etc.
Onspot user: Since 2019.

Uses Onspot because: "Onspot is better than nothing. It may sound strange to say so, but we actually have no other options. Without Onspot, we would not have been able to complete the tasks. "