Corporate events, city festivals, after beach and above all after ski. The rock band Rydell & Quick is usually touring all year round all over Sweden, and trusts that the touring truck will take them where they want. Thanks to Onspot, it does.
(Choose a subtitle language in the Youtube settings)
Christer Rydell is in Borås, Sweden, but he is not usually there very often. In ordinary cases, his band Rydell & Quick is probably Sweden's most diligent touring band. Or it's not enough to call it a band - it's a show.
- We are probably the only ones who travel around with 20 tons of equipment in our own vehicles. There is instrumentation, custom-made sound and light systems and everything else around. We transport, build up, unpack, transport again. At most, we have done 249 concerts in one year, he says.
Rydell & Quick's touring band are noticed when they arrive. Christer himself and several of the other regular members, like to ride a motorcycle to the gig if the weather allows, and the other artists and crew ride the bus. The crown is a Volvo FH tractor with a fully loaded trailer, a reliable workhorse. It is equipped with Onspot to meet all the challenges it is exposed to.
- It is one thing to drive on normal roads and between terminals that are made for large transports, something completely different to drive in such strange places as we do. It is small roads, hilly and steep, snowy and icy. Driving into the back of Sälen's high mountain hotel in the middle of winter - you can not do that without chains on the wheels, Christer Rydell states.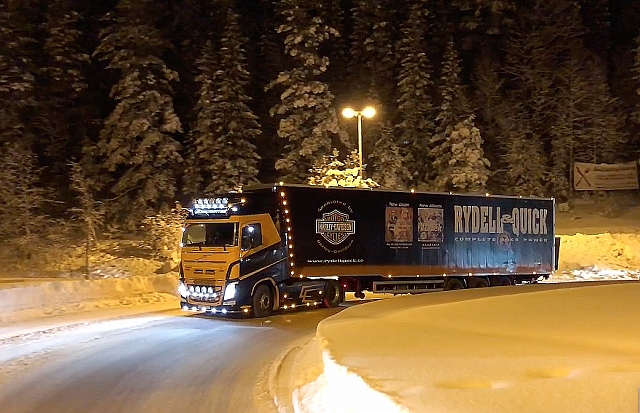 Onspot has saved them many times.
- It is a fantastic help as soon as it starts to be slippery. The whole vehicle combination weighs 30 tons, so when it starts to skid in the steep hill of Vemdalsskalet, it is, to say the least, a challenge. But just a click of the button and the chain goes out immediately, the wheel lies against the inside of the tire and sends the chain under the tire, and the situation is saved, all while the driver remains inside the good, warm cab, says Christer Rydell.
Then he pauses a bit and admits that he sounds like a salesman, but adds:
- Quite honestly, it's really good stuff, everyone says so! I have recommended them to an incredible number of people
---
Rydell & Quick
Location: Borås, Sweden but tours the whole country.
Founded: 1989.
Business:The band has six members in the basic line-up, with singer and guitarist Christer Rydell and singer and saxophonist Malin Quick as frontmen. They have made themselves known for attracting large audiences with their rock show, regardless of whether they play at a city festival or after ski in the Swedish mountains.They have released two albums of their own and also play cover versions of rock classics.
Onspot users: Since 2003.
Uses Onspot because:"When driving in such strange places as we do, and also in real winter weather, Onspot is the best aid. It has saved us an incredible number of times. "
Photo: Hans Köster