- We have a large vehicle fleet, with the main emphasis on heavy trucks, but do not have Onspot on the entire fleet. We have so much experience that we know which vehicles will drive where, with what, and where it's right with Onspot. Read more here.
Even Michael Nordstrøm, fleet manager at EM Distribusjon AS, says this. He runs the company together with his brother, Pål-A. Johannesen who is the general manager. They operate in Western Norway, where the weather changes frequently and where driving conditions can be extra demanding.
- We have built up a special department with transport in mind for the rental companies. This means that we have a number of cars that tow trailers for transporting mini excavators, lifts, units, work barracks and more. These often go out in areas with demanding roads and since 4-wheel drive makes the cars too expensive, it is much more cost-effective to mount Onspot on this part of the car fleet. Many of our cars are distributed on good roads and in the cities, and do not have the same needs, Even Michael Nordstrøm explains.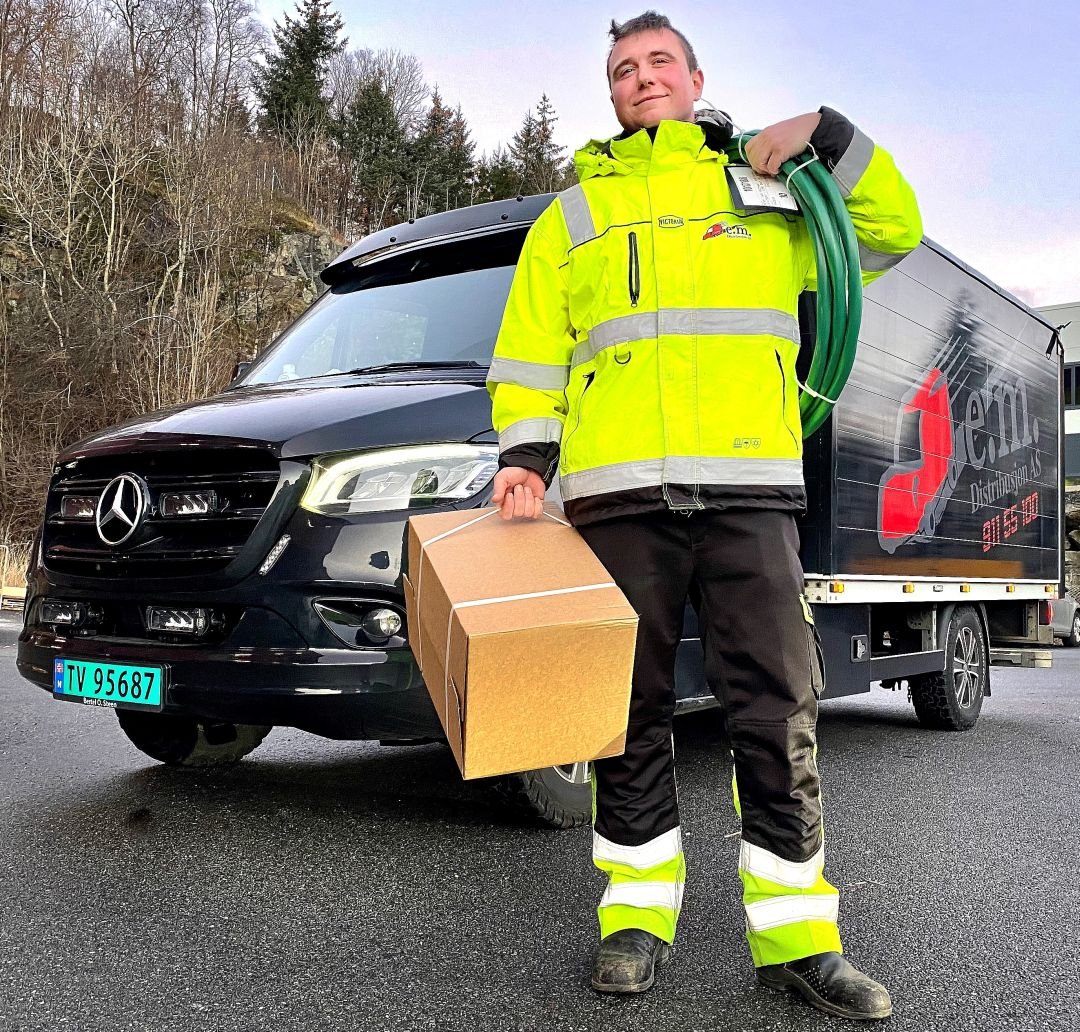 EM Distribusjon has a large number of 3.5 ton vans and uses Onspot on the cars they know from experience get the most use for on the difficult roads of Vestland. In the picture we see one of their black courier cars with driver Kristoffer Didriksen - photo Frode Tellevik
He can further tell that in addition there are some drivers who have more need than others to avoid going out and put on chains, which has Onspot. The company exchanges cars more often than many others, and then it is important that they do not have more extra equipment than what is right and profitable. In total, there are 12 cars in the company that have Onspot.
- We probably have the cars for a shorter time than others, that's the economy. We are very keen to monitor and develop and the first electric vans are in place and more are on order. But also in this field there is talk of putting the right cars in the right direction, the electric ones should be used in city driving first and foremost, concludes Even Michael Nordstrøm in EM Distribusjon.
---
Facts:
EM Distribusjon AS
EM Distribusjon AS was established in 2013, but the management has worked with transport and courier cars since 1994.
Behind the name hides Even Michael Nordstrøm, a guy with solid experience in building and operating cars in the Sprinter segment. He is currently fleet manager and runs the company together with his brother Pål-A. Johannesen who is the general manager, while his father Reidar Johannesen is the chairman of the board.
Located:Vestland Fylke - Bygstad, Sunnfjord with branches in Bergen, Sogndal and Sandane. They have two logistics warehouses.
Business:They are leaders in express shipping, have fixed routes, tailor distribution schemes for each individual customer such as Elektroskandia. They are an agent for JetPak, Collicare, Bring Express DHL Express and others. Major customers are Cramo, Smart Utleie, Renta, Stavdal and others.
They have quality and safety as core values. They have zero vision on accidents, injuries and other accidents. Newer safe cars, always quality tires of well-known brands and emphasize good behavior from the drivers.
Customer at Onspot since: We were among the first to try this on Sprinters, a pilot project, together with some ambulances - 2008 - 2009.
We use Onspot because; Accessibility and safety, but are aware of which cars need it. A car that drives 80,000 km on bare asphalt a year should not have it.